The Fight for Sight-Prevent Blindness Joanne Angle Public Health Award was named for Ms. Joanne Angle, who served on the National Board of Directors for Prevent Blindness, and both its Government Affairs and Audit committees, in addition to her work with the Association for Research in Vision and Ophthalmology (ARVO).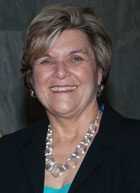 Joanne Angle
The Award was established to provide much-needed funding for research investigating public health related to eye health and safety.  The Award provides a $25,000 grant  to support a public health research project seeking to put an end to unnecessary vision loss. Applications will be accepted in the following priority areas:
Burden/economic aspects of eye disease and vision loss on society
Best practices in integrating vision screening and follow-up care with system care access
Vision program effectiveness and evaluation
Past recipients of the Prevent Blindness Joanne Angle Award include Brian J. Song, MD, MPH, at the Massachusetts Eye and Ear, and the Department of Ophthalmology at Harvard Medical School, for his study "Glaucoma Detection in Diabetes Teleretinal Programs."  And, Rajeev S. Ramchandran, MD, MBA, Associate Professor of Ophthalmology, University of Rochester School of Medicine and Dentistry, for his study, "Implementation Science Based Study of Teleophthalmology for Diabetic Retinopathy Surveillance."
---
Research Grant Awarded to Angela R. Elam, MD, Kellogg Eye Center, University of Michigan
Fight for Sight, the first nonprofit organization in the United States to promote eye research, and Prevent Blindness announced the recipient of the 2020 Joanne Angle Public Health Award as Angela R. Elam, MD, Clinical Assistant Professor, Ophthalmology and Visual Sciences, Kellogg Eye Center, University of Michigan. The $25,000 grant was awarded for Dr. Elam's study, "Engagement in Telemedicine-based Glaucoma Screening in the Community Clinics."

---
For more information on the Fight for Sight-Prevent Blindness Joanne Angle Public Health Award, please contact Arthur Makar, FFS's Executive Director, [email protected].
Prevent Blindness Research Policy
Prevent Blindness is committed to promoting and sponsoring vision and eye health research.