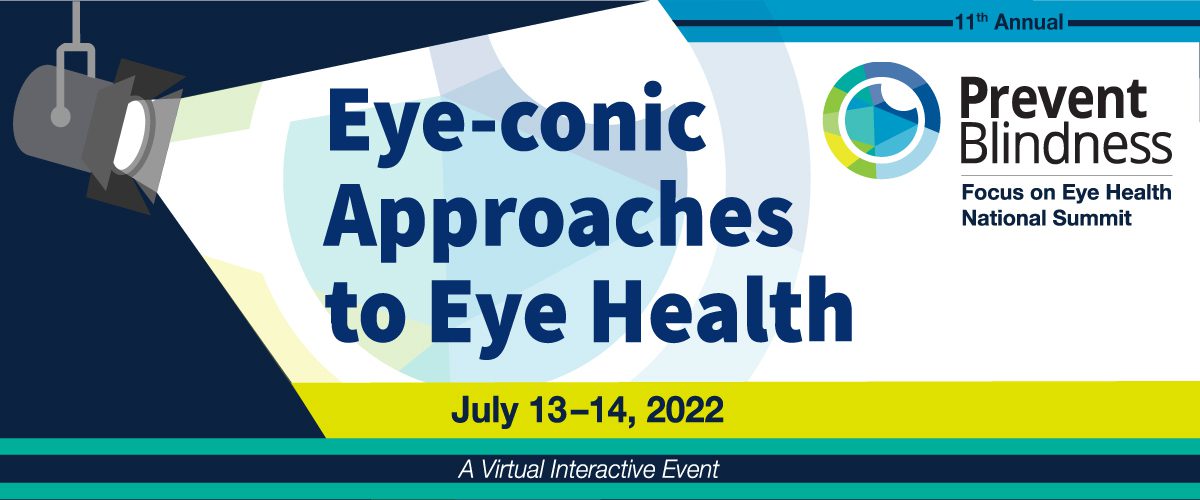 On July 13-14, 2022, Prevent Blindness will host the 11th annual Focus on Eye Health National Summit as a free virtual interactive event. The Focus on Eye Health National Summit brings together diverse stakeholders across the vision and eye health community to stimulate a national dialogue around emerging and current population health trends and topics such as equity, research, surveillance, access, prevention, service integration, program development, and dissemination of professional best practices. Under the theme "Eye-conic Approaches to Eye Health," the Summit will feature key contributions from those who are changing the way we think about vision and eye health and its role in our education, work, and lives; detecting and treating vision disorders as professionals in public health, research, and clinical practice; and strengthening the patient voice in clinical practice and public policy.
The event will take place over two days via a virtual conference platform that offers simultaneous access to expert presentations; a dedicated exhibitor hall; educational materials, videos, and toolkits; on-demand educational content; and in-platform opportunities for networking and collaboration. This annual event attracts a global audience of patient advocates, community-based and advocacy organizations, national vision and eye health organizations, researchers, health-care providers, educators, early childhood education professionals, senior- and child-care professionals, government agency staff, corporate partners, health program professionals, and legislative staff.
Watch last year's presentations.