August is Children's Eye Health and Safety Month, and 2022 is the "Year of Children's Vision" at Prevent Blindness.
This year, Prevent Blindness is offering a wide variety of free resources, including educational tool kits, fact sheets, webinars, and more, to provide parents, caregivers, teachers, school nurses and public health professionals the information they need to help keep children's eyes healthy and ensure that children are ready to learn and succeed in school, activities and development.
The National Center for Children's Vision and Eye Health at Prevent Blindness (NCCVEH) has an extensive library of free informational resources about vision health for children from infants to teens. Programs for professionals include the "Small Steps for Big Vision" tool kit, vision screening certification training, children's vision and eye health data and reports, facts sheets in multiple languages and shareable social media graphics.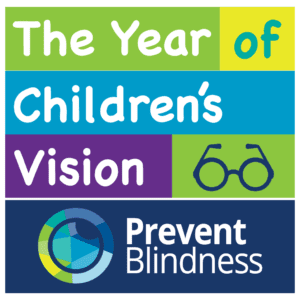 Prevent Blindness and its affiliates also partner with leading companies throughout the year to provide vouchers for free children's vision services. Since 1999, Prevent Blindness and VSP Eyes of Hope have provided nearly 125,000 students in need with free vision care and glasses valued at up to $48 million. In the United States, Prevent Blindness also partners with OneSight from EssilorLuxottica Foundation. Since the program's inception, OneSight has served 10 million people in more than 50 countries, providing permanent vision care access to more than 42 million people. New this year, Prevent Blindness is partnering with AEG Vision to provide eye examinations and eyeglasses to children and adults in Ohio and Texas.
In 2022, Prevent Blindness debuted The Zenni Scholarship to Advance Children's Vision, providing professionals with free enrollment in the Prevent Blindness vision screening certification program. Once certified, screeners can play an important role in identifying children's vision problems early and connecting children across the United States to eyecare. Zenni Eyewear provides vouchers for free prescription Zenni eyeglasses to those who are eligible.
"More than 100 years ago, our organization was founded to prevent unnecessary blindness in newborns," said Jeff Todd, president and CEO of Prevent Blindness.  "Today, we continue that mission to provide families, educators, nurses and others with the resources they need to ensure a lifetime of healthy vision for children."
For general information on children's eye health and safety, go to preventblindness.org/your-childs-sight/. For information on the NCCVEH and its variety of programs, visit nationalcenter.preventblindness.org/. Vision care financial assistance resources in English and Spanish may also be found at: preventblindness.org/vision-care-financial-assistance-information/.
Download the 2022 Children's Eye Health and Safety Month media release.