Prevent Blindness thanks James (Jim) Jorkasky for his nearly two decades of work contributing to advancements in vision and eye health.  Since 2003, Jim has served as the Executive Director of the National Alliance for Eye and Vision Research (NAEVR), an advocacy organization, and the Alliance for Eye and Vision Research (AEVR), an educational foundation.  Together, these Alliances serve as the "Friends of the National Eye Institute (NEI)," and represent the breadth of the vision community in advocacy and education for federally funded eye and vision research conducted by the NEI, the Department of Defense, the Department of Veterans Affairs, and other federal entities.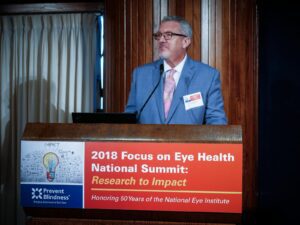 James Jorkasky speaking at the Prevent Blindness Focus on Eye Health National Summit
A primary role of NAEVR is to advocate for increased appropriations to the NEI and other agencies, to continue to invest in vision and eye health research.  Due in large part to NAEVR's advocacy under Jim's leadership, the NEI has seen steady increases in its appropriations, from $630,300,000 in 2003 to $857,868,000 currently.  As Jim routinely acknowledges, when factoring in equivalency to today's dollars, NEI has lost purchasing power and thus much work remains to be done.  But without his efforts, the more than $220 million increase accomplished over those years certainly would have been much smaller.
Under Jim's resolute leadership, the Alliances' achievements over these years have been many.  Just a few include:
Conducting 75 Congressional Briefings on a wide breadth of vision and eye health topics, aimed at improving knowledge on the importance of these issues among our nation's policy makers.
Creating and regularly updating the Vision Loss and Blindness Fact Sheet that has been used by so many to advocate for vision and eye health (in partnership with Research!America).
Successfully opposing a House Energy & Commerce Committee National Institutes of Health reform "budget clustering" proposal to move the NEI – along with other Institutes with functional neurologic research – into a BRAIN Institute, eliminating the NEI's  budget authority and jeopardizing front-of-the-eye research.
Successfully advocating to Congress to create a dedicated Peer-Reviewed Military Eye Trauma budget line in the Department of Defense (DOD) appropriations for Defense Health Programs.
Establishing a Congressionally recognized Decade of Vision 2010-2020 Initiative that acknowledged the 40th anniversary of the NEI and the challenges it faces from an aging population, disproportionate incidence of eye disease in minority populations, and visual implications of chronic disease.
Releasing results of the first survey across major racial/ethnic groups about American's attitudes about vision and vision loss (in partnership with Research!America and Research to Prevent Blindness).
Conducting and published the first comprehensive study of the cost of Military Eye Injuries, including penetrating eye injuries and visual dysfunction from Traumatic Brain Injury.
Initiated an annual Emerging Vision Scientists Day on Capitol Hill, featuring solely early-stage investigators in the vision space, engaging them in education and advocacy experiences that will enhance their education and their careers.
Jim has been a long-time volunteer with Prevent Blindness, having served on both our Government Affairs and Public Health and Policy Committees.  While we look forward to continuing to be a contributing member of both Alliances, we'll miss Jim's support of the Prevent Blindness mission, his always present sense of humor, and his tenacious belief in the importance of science and the power of advocacy.  Our nation's vision and eye health is in a better place due to Jim's efforts.
Jim – We wish you a retirement filled with terrific experiences and adventures!