Prevent Blindness presented the 2023 Person of Vision Award to Megan Molony, senior vice president, chief merchandising and managed care officer, of National Vision Inc. The award presentation took place on March 16, 2023, at 583 Park Avenue, New York, N.Y., in conjunction with Vision Expo East. The event raised more than $300,000 to support the sight-saving programs of Prevent Blindness.
The Prevent Blindness Person of Vision Award, presented annually, recognizes an individual or organization whose inspired outlook champions healthy vision and its importance for a healthy life. Ms. Molony was chosen as the recipient of the Person of Vision Award for years of dedicated commitment to healthy vision, access to affordable eyecare, and industry mentorship.

2023 Prevent Blindness Person of Vision honoree Megan Molony, and Maureen Cavanagh, Safilo, and Person of Vision Committee Chair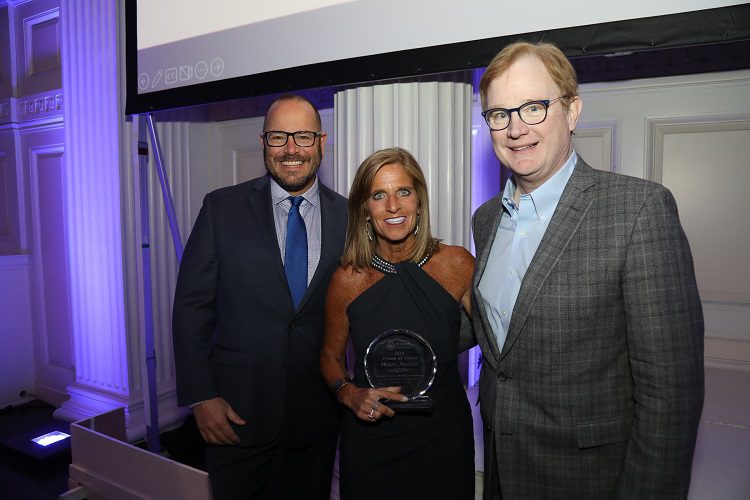 Jeff Todd, President and CEO of Prevent Blindness, Megan Molony, 2023 Prevent Blindness Person of Vision recipient, Jim McGrann, Prevent Blindness Board of Directors Chair
The Gold sponsors of the 2023 Person of Vision Award gala were EssilorLuxottica and National Vision, Inc. Silver sponsors included CooperVision, Horizon Therapeutics and Regeneron. Bronze sponsors were Advancing Eyecare, Allure Eyewear, Bausch + Lomb, Jobson, Marchon, Marcolin, Modo Eyewear and Vision Service Plan (VSP). Zyloware Eyewear served as the Nightcap Reception sponsor, and Mondottica USA was the Underwriting sponsor.
Table sponsors included ABB Optical, AEG Vision, DigitalOptometrics, Europa Eyewear, GPN Technologies, Hoya, Inspecs/Tura, Jonas Paul Eyewear, MyEyeDr., Ocuco, Optical Women's Association, PECAA, Safilo, Silhouette, The McGee Group, U.S. Vision, Visibility Management, Vision Council, Vision Expo, and Vision Source. In-kind and donations were provided by Jobson, Vision Expo and Vision Monday.
The all-volunteer 2023 Person of Vision Committee was chaired by Maureen Cavanagh, Safilo. Additional committee members included Deb Bulken, Luxottica Wholesale; Cha-Ling Delgado, Luxottica Wholesale; Erin Durham, National Vision, Inc.; Jessica Engler, Allure Eyewear; Past Person of Vision honoree Marc Ferrara, Jobson Medical Information; Lorie Lippiatt, OD, LLL Holdings, LLC; Deb Rich, Marchon Eyewear; and Jamie Shyer, Zyloware Eyewear.
"We thank all of our generous sponsors and attendees for making this the largest Prevent Blindness Person of Vision gala ever!" said Jeff Todd, president and CEO of Prevent Blindness. "Their support of Megan Molony and our organization allows us to continue our 115-year mission to prevent unnecessary vision loss and provide vision services across the age spectrum."