Prevent Blindness to provide TED educational materials, promote awareness, and offer unique Art Therapy program for patients and care partners
Prevent Blindness has declared Nov. 14-20, 2022, as its third annual "Thyroid Eye Disease Awareness (TED) Week." TED, sometimes called Graves' ophthalmopathy or Graves' Eye Disease, is an autoimmune disease in which the immune system causes inflammation and swelling and stimulates the production of muscle tissue and fat behind the eye.
To help raise awareness and provide free educational content to patients, care partners and healthcare professionals, Prevent Blindness offers TED fact sheets and social media graphics in English and Spanish, and a dedicated webpage. Also available is the "Thyroid Eye Disease" episode of the Focus on Eye Health Expert Series, featuring Prevent Blindness President and CEO Jeff Todd interviewing Sara Wester, MD, FACS, professor of clinical ophthalmology at Bascom Palmer Eye Institute, and TED patient Stephen Bander. TED Awareness Week is supported by Horizon Therapeutics, a global biotechnology company focused on rare, autoimmune and severe inflammatory diseases.
Those interested in participating in the next session may sign up for the Prevent Blindness Art Therapy Program waiting list. This program is supported by funding from Horizon Therapeutics.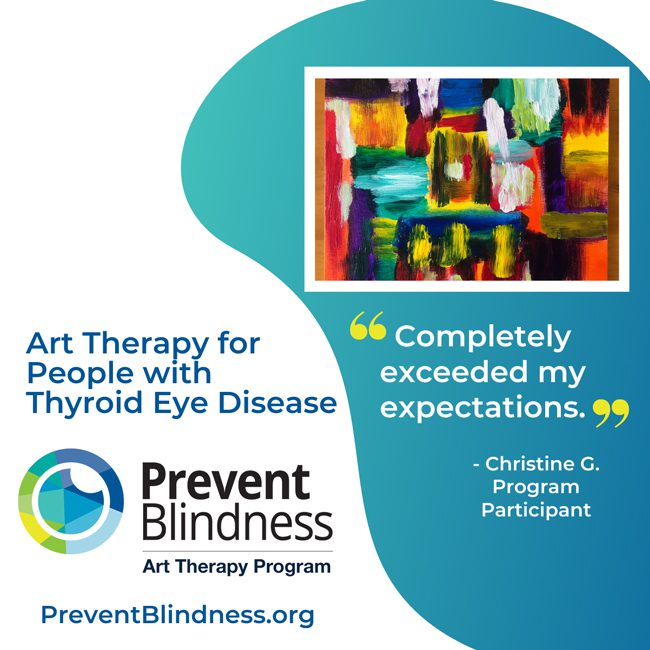 "By providing TED patients and their care partners with information and tools they need to understand Thyroid Eye Disease, along with offering the Prevent Blindness Art Therapy Program to help address the mental health impact, we can help to minimize the negative effect that TED often has," said Jeff Todd, president and CEO of Prevent Blindness.
For more information on TED, please visit preventblindness.org/thyroid-eye-disease/ or FOCUSonTED.com. For details on the Prevent Blindness Art Therapy program, visit preventblindness.org/events/art-therapy-fall-2022/.