Diabetes program expanded with community events and new resources to educate on diabetes effects on vision and eye health
Prevent Blindness and Regeneron Pharmaceuticals, Inc., are uniting to increase education on the impact diabetes can have on vision and eye health through an expanded "Diabetes and the Eyes" program. With the support of Regeneron, the program will now include a video series relevant for both English and Spanish speakers, community-level health education and support, and refreshed materials to increase awareness of diabetes' impact on vision.
Diabetes is one of the leading causes of vision loss and blindness in the nation due to the damage the disease can cause in eyes even before visual symptoms are noticeable. According to the 2022 National Diabetes Statistics Report from the Centers for Disease Control and Prevention, an estimated 37.3 million Americans have diabetes, and 23% of those people are unaware of their condition, which is an alarming statistic indicating nearly a quarter of people with diabetes are unaware of their risk for developing diabetes-related visual impairment.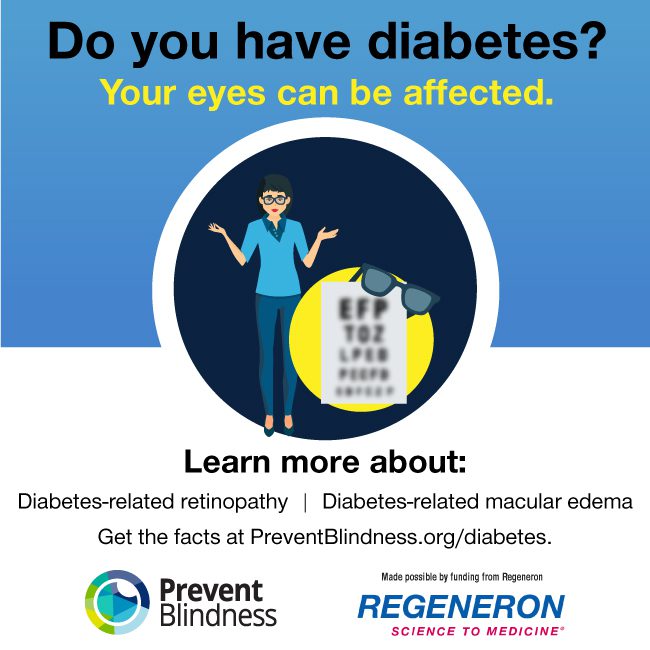 "Diabetes continues to affect the lives of millions of Americans, and sadly, the number of cases continues to grow. The impact that diabetes may have on vision, as well as quality of life, can be devastating," said Jeff Todd, president and CEO of Prevent Blindness. "We thank Regeneron for their continued support and partnership to help save sight and maintain independence through the 'Diabetes and the Eyes' program."
Diabetes-related eye disease refers to a group of conditions that can affect people with diabetes, including diabetic retinopathy and diabetic macular edema. Prevent Blindness created the "Diabetes and the Eyes" program in 2019 to provide much-needed educational resources to allied health personnel and consumers with the goal of helping to prevent vision loss due to diabetes. In addition to the updated "Diabetes and the Eyes" toolkit, fact sheets and graphics, the support from Regeneron has allowed the program to expand and include the following:
Video series (which will include Spanish subtitles): Videos will be produced on a variety of topics, including an introduction of the "Diabetes and the Eyes" toolkit, the socio-emotional impact of diabetes-related eye disease, entitled "Diabetes, Vision Loss, and Mental Wellness," patient education for the newly diagnosed, and eye care coordination for the individual living with diabetes.
Community-Level Health Education and Support: Prevent Blindness affiliates across the country will work with local partner organizations to effectively increase awareness about the causes of eye disease, risks due to health history or behaviors, and understanding of the impact of diabetes-related eye disease on mental health and quality of life. Partner organizations may be equipped with new vision screening or risk assessment skills and will provide education, screening, and eye care access to thousands of individuals with diabetes.
Patient and Professional Education Webinar: As part of May's Healthy Vision Month, Prevent Blindness will host the "Diabetes and Your Eyes: A Conversation Around Patient-centered Care" webinar on May 25. The goal of the discussion is to better understand the importance of care coordination, interprofessional communication, and a patient-centered approach for the care of diabetes-related eye disease across health care providers and allied health professionals who support the individual living with diabetes.
National Awareness Campaign: Prevent Blindness will utilize a variety of tactics to educate the public on diabetes and vision through social media, new episodes in the "Focus on Eye Health Expert Series," newsletters, and more.
"Prevention, early detection and timely treatment are all important components to help preserve vision in patients with diabetes-related eye diseases. It is imperative that we continue to arm our communities with the proper educational tools and resources to learn and understand the impact that diabetes can have on the eye," said Alyson Berliner, Executive Medical Director, Clinical Sciences at Regeneron. "We are proud to support and work alongside Prevent Blindness on the 'Diabetes and the Eyes' program and further advance our commitment to the patient community."
"Diabetes and the Eyes" toolkit
General diabetes information
About Regeneron
Regeneron is a leading biotechnology company that invents, develops and commercializes life-transforming medicines for people with serious diseases. Founded and led for nearly 35 years by physician-scientists, our unique ability to repeatedly and consistently translate science into medicine has led to numerous FDA-approved treatments and product candidates in development, almost all of which were homegrown in our laboratories. Our medicines and pipeline are designed to help patients with eye diseases, allergic and inflammatory diseases, cancer, cardiovascular and metabolic diseases, pain, hematologic conditions, infectious diseases and rare diseases.
Regeneron is accelerating and improving the traditional drug development process through our proprietary VelociSuite® technologies, such as VelocImmune®, which uses unique genetically-humanized mice to produce optimized fully-human antibodies and bispecific antibodies, and through ambitious research initiatives such as the Regeneron Genetics Center, which is conducting one of the largest genetics sequencing efforts in the world.
For more information, please visit Regeneron.com or follow @Regeneron on Twitter.