The Angiogenesis Foundation is launching a new webinar series on retinal health
The webinar describes the importance of vascular stabilization for blood vessel health in the eye and throughout the body.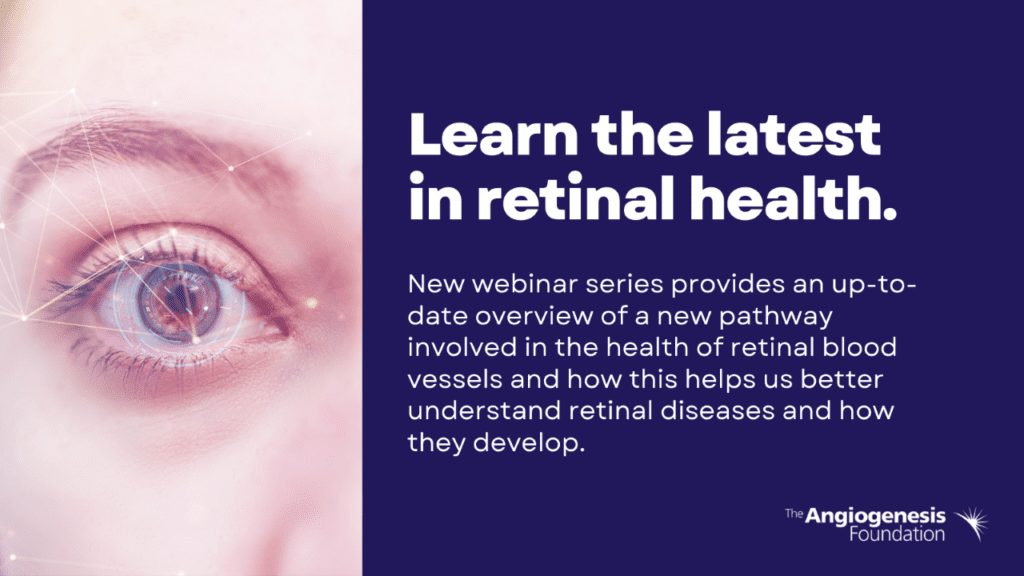 Stable blood vessels are an essential component in the health of all organs, including the retina. Abnormal, unstable blood vessels are a major cause of vision loss, such as in the highly prevalent retinal diseases, age-related macular degeneration (AMD) and diabetic macular edema (DME). Stabilizing blood vessels represents a new frontier in treating AMD and DME.
The webinar, moderated by Dr. Max Gomez, features presentations and discussions by experts including Dr. Caroline Baumal, Dr. Karl Csaky, Dr. David Eichenbaum, Dr. William Li, Dr. Ramin Tadayoni, and Dr. Charles Wykoff. They will be describing how blood vessels are influenced by molecules called "angiopoietins", as well as the latest findings about their effects on vascular stability and vision loss. The Angiogenesis Foundation is launching this program in recognition of "Save your Vision Month". The webinar can be viewed by clicking here: https://www.scienceofang2.org/webinar. 
This webinar series was developed independently and is being made available, at no cost to viewers, by The Angiogenesis Foundation; a global nonprofit research, education, and advocacy organization. Support for the program was provided to the Angiogenesis Foundation by Genentech, a Member of the Roche Group.