New Website from National Non-profit Prevent Blindness Provides User-friendly resources to Educate, Empower, and Engage Public in Vision and Eye Health Advocacy Efforts
Prevent Blindness, the nation's leading volunteer eye health organization, announced the launch of its new Eyes on Capitol Hill advocacy resource: Advocacy.PreventBlindness.org. The new website and legislative action center will educate and empower advocates with the vital information and necessary tools needed to successfully advocate for policies that preserve sight.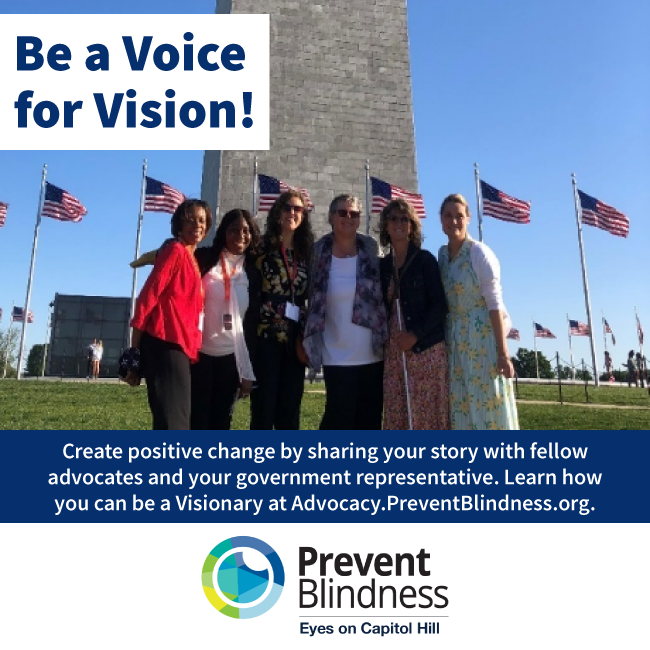 Founded 115 years ago in New York as a public health advocacy organization, Prevent Blindness began its mission to help eradicate a preventable form of blindness in newborns, commonly referred to as "Babies' Sore Eyes." By working with allied health professionals and local advocates, public policy was created to establish that all babies born in U.S. hospitals would be given potentially sight-saving eyedrops. More than a century later, Prevent Blindness has expanded its work to help protect healthy vision across the age and eye disease spectrum.
The new website was developed as an extension of the successful "Prevent Blindness Eyes on Capitol Hill" legislative day, an annual event now in its 18th year that provides patient advocates the opportunity to meet with their legislative representatives.
The website also contains information about the Prevent Blindness ASPECT Patient Engagement Program– Advocacy, Support, Perspective, Empowerment, Communication, and Training. The goal of the ASPECT Program is to empower individuals to harness the power of their own story to advocate for better eye health for themselves and others; improve services for those who are blind or have low vision; and/or engage with leaders at the local, state, or national level to effect change. To date, more than 125 advocates from 32 states across the country have joined the program.
"As a patient advocacy organization, Prevent Blindness often serves as the voice of the patient," said Jeff Todd, president and CEO of Prevent Blindness. "Our new advocacy resource, coupled with the ASPECT program, better allows us to engage those patients and care partners in our efforts and continue to provide those affected by vision and eye health issues with the tools needed to educate others, including lawmakers, on the importance of adequately addressing the needs of those with significant vision impairments."