Prevent Blindness offers free informational resources to help protect eyes, vision from potentially damaging ultraviolet rays
Prevent Blindness has declared May as Ultraviolet (UV) Awareness Month. As many Americans begin to prepare for Memorial Day weekend and spending time outdoors in the warmer weather, the group provides educational materials on the possible negative effects of UV exposure to the eyes and vision.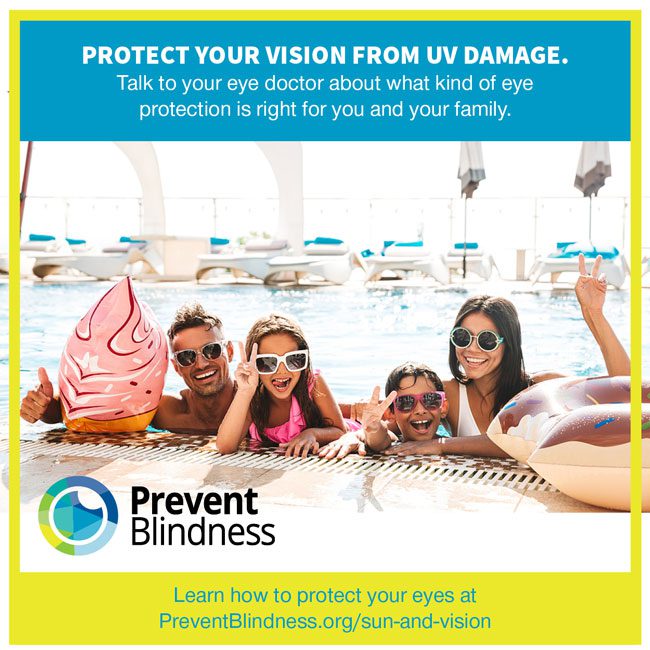 Although everyone is at risk for UV-related eye problems, the risk is higher for people who:
spend long hours in the sun
are on certain medicines, such as tetracycline, sulfa drugs, birth control pills, diuretics and tranquilizers that increase the eye's sensitivity to light
have certain retina disorders
have had cataract surgery (You may be more at risk of injury from sunlight unless the artificial lens you received during surgery absorbs UV rays.)
According to the American Academy of Ophthalmology, "snow blindness," a form of photokeratitis, can quickly develop after exposure to UV reflections off of snow, ice, sand or water. Other issues linked to UV exposure according to the National Eye Institute are:
Pinguecula- a protein and fat deposit in the white part of the eye (sclera). It can cause irritation and, in rare cases, affect how tears cover the eye.
Pterygium (Surfer's Eye)- a growth that extends from the sclera to the clear tissue called the cornea, which covers the iris and pupil.
Cataract- a cloudy area in the eye's lens. Prolonged exposure to UV rays modifies lens proteins, leading to cataract formation and worsening eyesight.
Cancers of the eyelid- includes basal cell carcinoma and squamous cell carcinoma
Prevent Blindness offers a variety of free UV educational materials to professionals and the public, including a dedicated webpage, PreventBlindness.org/sun-and-vision, downloadable fact sheets and shareable social media infographics. Prevent Blindness recommends that adults and children wear UV-blocking sunglasses in conjunction with a brimmed hat when outdoors.
Additionally, Prevent Blindness is raising awareness about protecting your eyes from the sun during solar eclipses occurring in the United States in October 2023 and April 2024. Prevent Blindness offers a brand-new resource, "Solar Eclipse Eye Safety." The site has tips on viewing the eclipse safely to avoid eye damage or vision loss and provides free downloadable fact sheets in English and Spanish. Visitors may also purchase Prevent Blindness-branded eclipse glasses, with proceeds going towards its sight-saving programs.
"Damage to our eyes from extended UV exposure can be extremely painful and, sometimes, permanent," said Jeff Todd, president and CEO of Prevent Blindness. "Always make sure you and your family are wearing the proper eye protection in the sun, no matter what time of year, to help keep eyes healthy for years to come."
For more information on UV eye protection, please visit the Prevent Blindness dedicated webpage at PreventBlindness.org/sun-and-vision. For eclipse eye safety information, please visit PreventBlindness.org/eclipse.
Download a copy of the 2023 UV Awareness Month media release.