Prevent Blindness
 Launches New Awareness Initiative to Educate Public on Geographic Atrophy and its Potential Effects on Vision
Prevent Blindness is announcing the launch of the first-ever Geographic Atrophy (GA) Awareness Week, to be held Dec. 6-12, 2021. GA is the advanced form of dry age-related macular degeneration (commonly referred to as AMD) which leads to vision loss in the center of one's vision. Geographic atrophy results in areas of damaged tissue causing central blind spots. It is estimated that 1 million people in the United States have GA.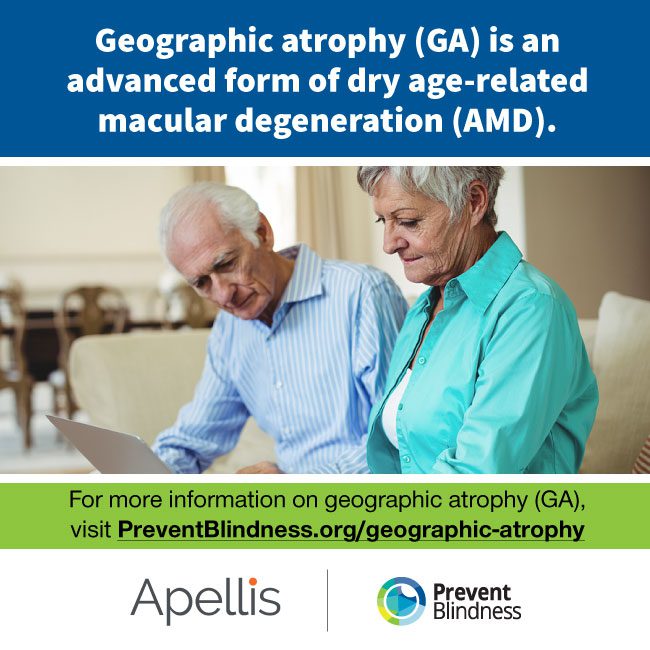 Prevent Blindness has created a variety of new resources on geographic atrophy, including a downloadable fact sheet, and a dedicated webpage. A series of shareable social media graphics are also available and will be posted by Prevent Blindness on its various social media channels throughout the week. Development of these new resources was sponsored by Apellis Pharmaceuticals, Inc. 
A new episode in the Prevent Blindness Focus on Eye Health Expert Series dedicated to geographic atrophy will also be available during GA Awareness Week. Jeff Todd, president and CEO of Prevent Blindness, interviews Dr. Janet S. Sunness, medical director of the Richard E. Hoover Low Vision Rehabilitation Services at the Greater Baltimore Medical Center. Dr. Sunness directed a National Institutes of Health-funded natural history study of geographic atrophy. Her research has focused on using visual function measures to better understand retinal disease, particularly AMD and Stargardt disease.  
There are a variety of risk factors for geographic atrophy, including a family history of AMD, heart disease, obesity, high cholesterol, and smoking. Having GA in one eye increases the likelihood of developing it in the other eye. 
There may be no symptoms in the early stages until the disease progresses or affects both eyes. Vision changes due to GA may include: 
Difficulty seeing in the center of vision

 

Numbers or letters disappearing or missing when reading

 

Trouble seeing in dim light

 

Dull or washed-out colors

 

Vision not as clear or sharp

 
Prevent Blindness also invites GA patients and their caregivers to participate in the new MOSAIC study. The purpose of the study is to understand how GA/advanced dry AMD impacts daily life for people with GA and those who help them. People aged 60 or older living with GA/advanced dry AMD and their main, non-paid caregiver living in the US, UK, Australia, Germany, and France are invited to participate. For more information, please e-mail [email protected].  
"As the number of AMD cases in the United States continues to grow, so do the numbers of those at risk for geographic atrophy," said Jeff Todd, president and CEO of Prevent Blindness. "We encourage AMD patients and their caregivers to educate themselves on ways to help avoid vision loss from GA and talk to their eyecare professionals today to save vision for the future." 
For more information on geographic atrophy, please visit https://preventblindness.org/geographic-atrophy. For a listing of vision care financial assistance programs in English or Spanish, visit https://www.preventblindness.org/vision-care-financial-assistance-information. 
Download a copy of the Geographic Atrophy Awareness Week press release.